My family has recently finished a complete study through the Bible, verse by verse, which has taken us over 6 years to complete. In addition to reading the text of Scripture, we have utilized many other supplementary resources as well. I describe a bit of our approach to studying the Bible as a family HERE.
As we have cycled back around to Genesis, there are a couple of resources that we have found to be invaluable. One of the resources I highly recommend is Ken Ham's Foundations DVD set, and Answers Academy Curriculum from Answers in Genesis.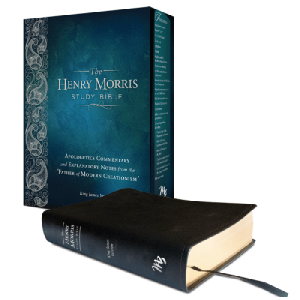 However, for the actual study of the text itself, I have found no better resource than the verse-by-verse commentary provided by Dr. Henry Morris Study Bible (the co-founder of the modern Creationist movement). I don't know if anyone ever studied the book of Genesis more intently in one lifetime than Dr. Morris. His commitment to Biblical authority and his deep understanding of the world of Science make this Bible a wonderful lifetime investment.
Available in beautiful genuine leather, this KJV translation masterpiece features over 10,000 study notes. This 2,215 page volume uses a 10 point font and a two column format making it easy to read. Inside you will also find the Words of Christ in red, 22 total appendices, full color maps and a concordance.
Personally, I would never want to teach through the book of Genesis without this unique resource in my hands. I highly recommend it to your family as a family heirloom to pass on from generation to generation.
Israel Wayne is an Author and Conference Speaker and the Director of Family Renewal, LLC.